2024 - Olympic Logging Conference
April 24-26, 2024
Opportunities for Innovation
About the Conference
The Olympic Logging Conference brings together people who are involved in the forest products industry of Western Washington State. The Olympic Logging Conference meets annually during the spring at the Fairmont Empress Hotel in Victoria, British Columbia.
Roughly 275 people attend the conference, all having various industry backgrounds: timber purchasers and sellers, log conversion representatives, logging and log trucking contractors and private and public landowners. The attendees come from both the private and public sectors. The conference offers a forum where people within the industry can network with one another. Spouses or significant others are encouraged to attend the conference. A variety of receptions, dinners, entertainment venues plus a golf tournament are hosted by the Olympic Logging Conference during the 3 day event.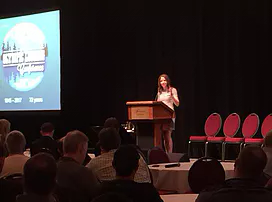 The conference offers its members varied educational learning material on issues which effect the forest products industry.
Keynote addresses.
Panel discussions and briefs.
Regulation and legislation.
New and innovative machinery and processes.
The conference offers credits toward the Accredited Logging Professional certification.
The Olympic Logging Conference has been in existence since 1945. The Olympic Logging Conference is one of many regional logging conferences and associations that meet annually within the United States and British Columbia. Representatives from the Olympic Logging Conference also participate in the Pacific Logging Congress which is an umbrella conference to the regional conferences.